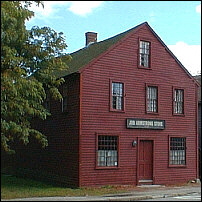 Job Armstrong was born on June 30, 1784 in Glocester, RI. He was the son of Jesse Armstrong and Jemima Capron. He married Adah Aldrich and had three children, Jesse, Laura and one other child. He later married Laura Cooke and had one son, Cyrus Cooke Armstrong. According to Town Council Minutes of the early 1800's, Job Armstrong appeared to be running a retail business as early as 1807. Besides being a business owner, Job Armstrong was Justice of the Peace and Representative to the RI General Assembly, President of the Town Council from 1831-1832, Church Clerk for the Chepachet Free Will Baptist Church in 1842 and the Chepachet Postmaster in 1849 before his death in 1854. He is buried in Acote Cemetery.
In late 18th century, Glocester's agriculture continued to prosper with most of the land cleared for fields and pastures. Farms produced indian corn, rye, barley, potatoes, vegetables, and fruit. Small-scale mills began to develop the town's network of rivers and streams. The development of roads was a key a factor in Chepachet's growth. By the beginning of the 19th century, there were roads through Chepachet connecting Providence to Albany, Hartford, and Brookfield, MA (Perry). Some of these early roads were named "The "Great Country Road" now known as Putnam Pike (Rt 44) and the first turnpike in Rhode Island "Western Glocester Turnpike", the seven miles from Glocester to the CT border.
The community grew into a sizable trading center due to the expansion of commerce and industry. Mills continued to develop and transport goods to Providence, CT, and MA via the roadways and waterways in Glocester and Blackstone. Workers moved from farms into villages/towns and created need for stores, hotels, taverns and houses. By 1810, Glocester had a population of 2,310, four hundred houses, two clothiers; four manufacturing establishments; a number of mercantile stores; two religious societies, twelve private schools; one social library; a post office and two public houses (Perry).
1814 Benjamin Bowen was the original builder/owner of the building, now known as the Job Armstrong Store. In 1827/1828 Benjamin Bowen sold the building to Job & Scott Armstrong. By 1831, the Armstrong Store was the busiest and most popular of the thirteen dry goods and grocery stores in the village of Chepachet with 4 to 5 clerks working full-time. The dry good section of the store might include bolts of cloth, pin, and needles, thread, ribbon, dungarees, hats, and shoes. Essential items such as rifles, pistols, ammunition, lanterns, lamps, cooking utensils, dishes, and tools would also be found. Meats, groceries as well fresh fruits and vegetables would be available from storekeeper's garden.
1841/1842 The fallout from the Dorr Rebellion ... As of 1840, Rhode Island was still using the constitution of the 1663 colonial charter that required a man to own $134 in property to vote. Few immigrants or factory workers could vote. Consequently, Rhode Island had a very low turnout in the 1840 election. At that time, Job Armstrong served as Representative to the Rhode Island General Assembly and President of the Town Council. He supported the original constitution which restricted voting rights. The Job Armstrong's store saw an abrupt decline his successful business with the Dorr Rebellion. Additional information about the Dorr Rebellion can be found here.
In 1846 Job Armstrong sold the store to his son, Jesse Armstrong and it is believed that Job Armstrong moved his primary residence to Providence. In 1851 Jesse Armstrong sold it to Jesse Phetteplace and William R. Sprague and was used as a store and tenement. Between 1868 and 1914 various individuals owned the Job Armstrong Store building and there is little documentation of what the building was used for but mostly likely continued to be used as a store. In 1914 Brown and Hopkins Store purchases store for storage of grain, fertilizer and paper products. The tenement continued to rent until 1950. In 1964 Brown and Hopkins Store sold the property to Roscoe and Lillian Steere who later sold it to its current owners, the Glocester Heritage Society in 1971.
The Glocester Heritage Society was organized in 1967 and its purpose is to identify, acquire, hold, arrange, restore, maintain, and preserve for posterity buildings, tracts of land and objects of historical, educational, architectural, cultural and other similar interests of outstanding value within the Town of Glocester, Rhode Island. The building was gradually restored and it now includes a Visitor Center and welcomes the public to all meetings. Historical and genealogical researchers are welcome to visit by appointment.
Following the restoration of the Reuben Mason House, the Glocester Heritage Society will use the building for the Dorr Rebellion Museum, commemorating the effort by Thomas Dorr to extend the right to vote to every free man in Rhode Island, whether or not they owned property.
The Reuben Mason House Medicinal Gardens and Job Armstrong Shopkeepers Gardens, identified as the Glocester Heritage Gardens are two of Northern Rhode Island's University of Rhode Island Master Gardener demonstration gardens that support the mission of the Glocester Heritage Society and Rhode Island Master Gardeners Program.